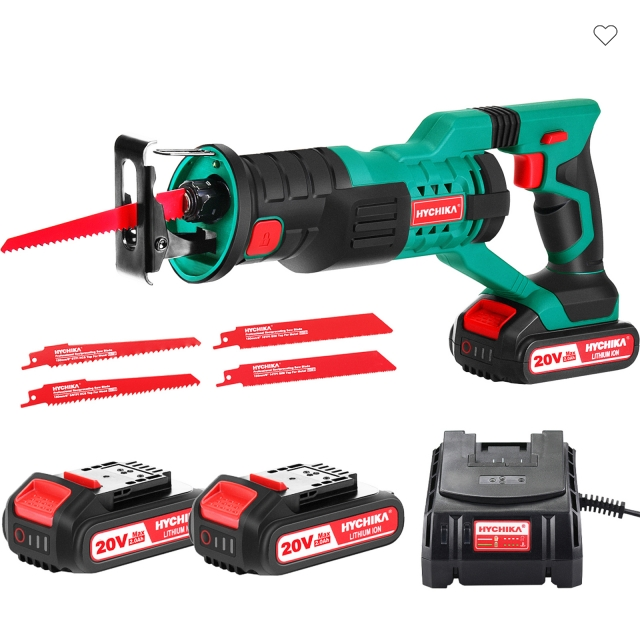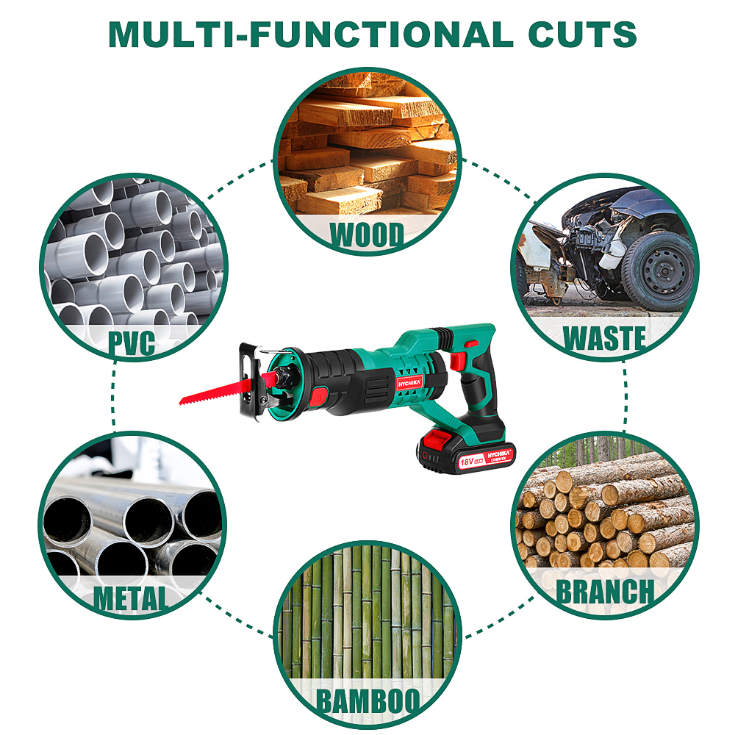 HYCHIKA Battery reciprocating saw 18V / 20V 2Ah
HYCHIKA cordless reciprocating saw 18V / 20V 2Ah 2 batteries 4 saw blades, 0-2800SPM variable speed, 7/8″ stroke length tool-less saw blade change LED light for wood, metal, tree cutting.
HYCHIKA focuses on technology and powerful tools. Technology creates power. We strive to combine technology and performance in tools and improve the quality of tool sets. Better HYCHIKA tools are always dedicated to creating a better life for you. This HYCHIKA 18V reciprocating saw with adjustable speed 0-2800 SPM is suitable for wood, PVC, metal and tree cutting. A good choice for professionals such as remodelers, electricians or just do-it-yourselfers.
Features
1. speed 0-2800SPM, stroke 22mm, three cutting methods, conventional cutting, insert cutting, flat cutting, widely used for cutting wood, pipes and metals.
2.2.0Ah double bag with battery indicator, longer battery life (you can use one battery and charge the other), with a 1-hour quick charger,
3. with safety and speed switch to avoid accident by touching the switch ;;
4. the machine is equipped with LED, which is convenient to use in dark environment.
5. the machine has a fast switching structure for the saw blade. No additional tools are required. Simply turn the locking head and insert the saw blade.
6. four gear steps of the bottom plate can be used to control the cutting position of the saw blade.
7. body, handle with soft rubber and new shock absorbing structure, which can prevent slippage and shock and provide a good grip;
8. with 4 pieces saw blade, 2 pieces high speed steel (cutting wood), 2 pieces bimetal (cutting metal) cutting capacity.
: wooden plate: 30 cm, PVC: 30 cm, soft metal pipe: 30 cm (when the saw blade is 30 cm); metal plate: 15 mm.
PRODUCT INFORMATION
Quick change chuck

Rotate 90 degrees counterclockwise to loosen chuck and simplify knife change in seconds without additional tools.

Variable speed knob

Equipped with a variable speed trigger (0-2800 RPM) for cutting through various materials from wood, PVC to metal. The further the trigger is pulled, the higher the speed of this saw.

2 x 2.0Ah langlebige Batterien

2×2.0Ah batteries with power indicator, 1 hour fast charging, so you don't need to worry about running out of power.
Einstellbare Länge

Die Bodenplatte verfügt über 4 Zahnräder, mit denen Sie die Schnittposition des Sägeblattes einstellen können.

LED Licht

Ausgestattet mit LED-Licht, ist es daher praktisch, in Bereichen mit schlechten Lichtverhältnissen präzise und klare Schnitte auszuführen.

Zubehör

2x 150mm, 6T, HCS Klingen für Holz 1x 150mm, 14T, BIM-Klinge für Metall 1x 150mm, 18T, BIM-Klinge für Metall 1x Schnellladegerät 2x 18v 2.0Ah Batterien
HYCHIKA mini circular saw 500w
Mini circular saw, HYCHIKA handheld circular saw with 3 blades, laser guide, scale ruler, 500W pure copper motor, 4500RPM, Ideal for wood, soft metal, tile and plastic cutting.
Product information
Preis: 59,99€
HYCHIKA circular saw 750w
Hand circular saw, HYCHIKA 750w circular saw 3500U with 6 saw blades (115 & 125mm), laser guide & guide rail, Max cutting depth 48mm(90°)/32mm(45°), mini circular saw for wood, soft metal, tile etc.
Product information
The new HYCHIKA 230V / 750W 3500U mini hand-held circular saw can be used to process structural solid wood, solid timber, sarking boards and insulation boards made of wood fiber up to 48 mm thick. This allows the hand-held circular saw to be used for demolition and renovation work, as well as interior finishing and insulation.
the saw can be guided comfortably and stably
| | | |
| --- | --- | --- |
| Class 2 laser guidance ensures a professional and precise cut line. | Change adjustable cutting angle from 0 ° to 45 °. | 6 saw blades meets various application requirement |
Preis: 74,99€
HYCHIKA Electric jigsaw
Jigsaw, 800W Max wood cutting depth 110mm, 800-3000SPM HYCHIKA Electric jigsaw with laser, 6 Variable speeds and 0-3 Orbital position, 6 blades, bevel cutting: -45 °to 45°
Product information
Preis: 39,99€
HYCHIKA hand circular saw 1500w
Circular saw, HYCHIKA hand circular saw 1500W 4700RPM, Max. Cutting depth: 90°: 65mm/45°: 45mm with 2 saw blades 190mm(24T/40T), copper motor, safety switch for wood DIY.
Product information
Dust blower

Connect the dust port to a vacuum cleaner to ensure a clean working environment

Depth adjustment

The maximum cutting depth at 90 ° is 65 mm and the bevel capacity at 45 ° is 45 mm

Angle adjustment

Freely adjust the bevel angle from 0 ° to 45 ° to meet a variety of applications
HYCHIKA 18V Circular Saw with 4.0 Ah Li-Ion Battery
Cordless circular saw, HYCHIKA 18V circular saw with 4.0 Ah Li-Ion battery, 2xblades 165mm, Max cutting depth 53mm(90°)/36mm(45°), cordless saw with guide rail, suction adapter & safety switch.
Product information
18 V cordless compact circular saw with lithium-ion technology, including 1 x 10V / 4.0 Ah Powershare battery and quick charger. Guide rail for precise cutting, suction adapter for dust-free working and clear view of the cutting line.
Akku Kreissäge ermöglicht saubere und präzise Ergebnisse
How to change the saw blades?
Preis: 99,99 €